Mobile app development is vital for any online business. Mobile apps have revolutionized our business practices. Apps like these have made it easier for users to obtain business information faster while keeping them in touch and up-to-date with their preferred brands and promotions. Apps are crucial to increase the reach of the business and provide massive publicity for the company's brand.
Over the last ten years, mobile apps, and mobile app development demand have grown exponentially across the globe until the end of 2020. It sold approximately 3.5 billion smartphone users worldwide and around 1.4 billion smartphones the entire year.
This has led to increased demand for mobile apps in the most prominent companies and organizations.
In addition to providing goods and services to their clients, businesses also use applications to increase the return on investment by a variety of methods.
From branding to learning more about your customers, There's no limit to the amount of value you can gain from these methods.
Suppose you're interested in learning how your company and your customers will benefit from a mobile-friendly experience. In that case, this article highlights some of the critical aspects to consider.
The most important and best ways to use mobile applications for your business
To be successful while spending money on a mobile application for your company, You must take note of your strategy.
If you are looking to build your brand, There are various options to make your brand mobile.
Task Resolution Apps
These apps assist users in completing tasks or avail the services offered by your business at a distance and quickly.
A majority of mobile apps contain task resolution as the principal feature.
This could function as a tool to allow remote workers to gain access to databases of customers or an app that car owners can use to control their vehicles remotely (BMW) or shopping apps.
Loyalty Apps
Mobile apps can be an excellent way to increase the loyalty of your customers. Brands such as ASOS and Starbucks have loyalty programs that reward 'good' customers.' As a result, customers continue to return to the brand in exchange for these advantages.
Entertaining Apps
Applications aren't all geared towards accomplishing tasks on their own.
If you can keep your users entertained by using your app, You can keep most of your audience engaged regardless of providing incentives.
Coca-Cola, along with Red Bull, do efficiently with their Coca-Cola Freestyle and Red Bull TV apps.
mobile app development
Customer Service Apps and Chatbots
These apps adhere to the standard communication model and act as a link between brand employees or software users to help with troubleshooting.
Customers can submit their issues and get solutions. On their own, the brands will inform customers of the latest updates and services.
What are the benefits of mobile app development?
Provide More Value to Your Customers
The past ten years or so have altered the landscape of business significantly. Today, business owners depend heavily on technology to start and conclude transactions with consumers.
Mobile applications are among the significant elements of contemporary technology that constantly change the way consumers shop and fulfill their requirements.
With the speed of technological advancement, consumers' expectations are also growing. Mobile apps are usually the best way to meet the expectations of consumers.
For example, one of the most important businesses that can benefit from mobile applications is retail.
Mobile technology will make your products and services more accessible and straightforward.
Modern consumers are accustomed to the convenience of apps, so they are at the customers' access.
Build a Stronger Brand
The more value you provide to your clients, the greater their interest grows in your business. But, it's impossible to offer a complete brand experience without intentional marketing efforts.
This is where mobile app development with branded names can help.
A lot more than traditional brand advertising options like outdoor or TV advertising, branded apps have proven very effective in recent years.
Marketing agencies utilize mobile apps to enhance the visibility of their brands and maintain an ongoing relationship with their clients.
Mobile phones are now an integral part of our daily lives, with a significant frequency of use. App developers can use this channel to their company's advantage.
The more branding components (logos or color combinations, etc.) you have in your application, the greater your chances of having an impact anticipated for your marketing results based on your brand.
It is possible to utilize the information gathered by this application to know your audience's preferences and help you improve your brand's advertising strategy.
mobile app development
Connect With Your Customers Fast and Easy
If there's one thing that significantly influences customer satisfaction, how quickly and easily accessible information about a business is.
At times, the significant difference between a lead and conversion is the support's response speed.
If you're looking to deliver your customers the best communication speed possible, a dedicated mobile app development may be the missing link.
Unlike websites and other channels, a mobile app is more reliable, personalized, and convenient. Considering that they can log in with their contact information, customers don't have to worry about losing track of their support requests.
Similarly, your employees can easily access this information, which will help them serve the clients faster and better.
Beyond support, mobile apps are great for requesting and collecting customer feedback.
Businesses relied on multiple surveys and data from various sources in the past. However, mobile content makes it possible to achieve all the feedback generation you need in one place.
As a bonus, you can add a live chat support feature to your app. This not only boosts customer satisfaction but also drives engagement as well.
If adequately implemented, near-instant replies from in-app live chat can dramatically positively impact your sales and brand in general.
Have a Competitive Edge in Your Niche
In the present age of digital marketing, staying ahead of the competition could be a difficult job.
Although there are numerous factors to consider, mobile application development gives you an edge in the market. The research into the use of mobile apps in businesses suggests that.
Changes in consumer behavior appear to be the primary reason driving this trend: the need for instant communications and the growing use of smartphones.
As we've said before, communication speed is crucial to ensure customer satisfaction.
Compared to traditional websites and other channels, mobile apps can better cater to consumers who want speeds.'
If you think about the numerous ways that a mobile strategy can improve your workflow in your company, the overall impact on your income production will soon be apparent.
Nowadays, being mobile can be more than just having an edge in the market. It could be necessary to stay ahead of the competition in specific industries.
Build a Direct and Personalized Marketing Channel
Another aspect of your company that could benefit from a custom-designed mobile application is your marketing department.
One of the most prominent benefits digital marketers get when they move to mobile is direct access to information about users.
The information gathered from user sessions and entry points to your app could help improve your marketing strategies.
When your marketing professionals have all the data, they require the app will allow you to distribute content to your clients more efficiently than traditional channels for marketing.
Whatever your strategy for marketing or objectives is, moving to mobile allows you to give the most competitive offers to your customers at their fingertips.
Here are a few ways mobile technology makes this marketing method direct feasible:
Push notifications are a must for mobile devices; the effectiveness that push notification has is unquestionable. A Pushwoosh report revealed that push notifications could have up to a 70 percent opt-in rate. The distinction is evident if you compare this to email marketing's 5 percent.
In-app clickthrough rates: ads and CTAs (CTA) or any other element that is related to business will always be more likely to get clicked within applications. This is also the case in the case of push notifications.
Time to respond: Because users need to complete the desired action, they are more likely to immediately interact with your messages or offers. In the case of emails, you could need to wait for up to six hours.
Although we don't recommend concentrating all your marketing efforts around mobile platforms, we suggest that you shouldn't want to miss out on the benefits of this channel.
mobile app development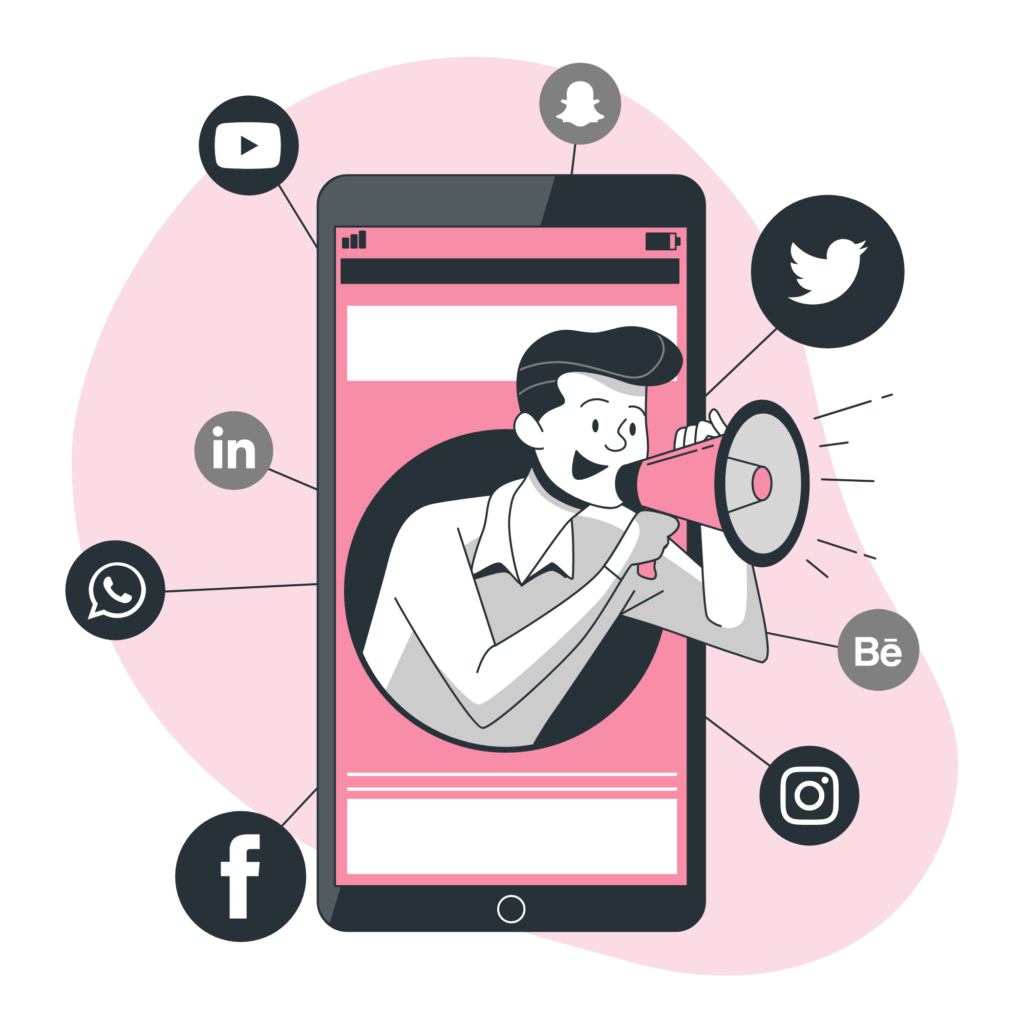 Utilize Social Media Channels
Engagement is the primary driver in the world of the internet. The more time users spend on your application, the more beneficial it is for your company.
There's not a better alternative than social media for increasing engagement. To connect your app to social media platforms, You might want to think about promoting it through these platforms as the first step.
To do this, you'll require an effective social media campaign.
Social media marketing using popular platforms such as Facebook and YouTube is an excellent way to ensure that your app gets the attention you need right after the launch.
After you've received the necessary downloads, you should encourage users to sign up for the social networks. So sharing on social media will be accessible in the future.
Offer Instant, Better Customer Service
As we mentioned, immediately contact with your customer is crucial to a positive customer experience. Research in the customer support industry show that the majority of customers nowadays seek help via mobile.
Find Valuable Consumer Insights
Being successful in business within the twenty-first century has become nearly impossible without customers' insights. If you're seeking to create an effective marketing plan, it is essential to ensure that it is based on actual customer behavior. mobile app development is an effective and reliable source of data from consumers. In other instances, you could offer incentives or incentives when you require customers to take part in a survey or answer a survey. When you've analyzed the available information, the weaknesses in your marketing and strengths will be apparent. Starbucks could claim more than 17 million active members in their loyalty programs by utilizing knowledge from their mobile app.
mobile app development
Mobile app development increases Sell-Through
The research shows that customers spend more time using the company's mobile apps instead of the mobile website. Mobile Applications can aid companies in attracting new customers and achieving success.
finally
mobile app development has become essential for any company, whether it's an enterprise, startup, or seasoned market participant. After going through the points above, it is now your responsibility to understand the significance and advantages of mobile applications for every company.
the development of mobile apps company
If you're not yet planning to create a mobile-friendly app for your company, you're far ahead of your competitors. It's essential to begin planning to stay ahead of the pack and keep up with your competition. You have to find an original idea to develop mobile apps and contact an established mobile app development company.